30
Sep
To see what is there. No more.
To speak what you see. No more.
No caveats. No excuses. Not even fancy, literate, well-crafted ones.
To be able to experience truth.
Before it became a complex, stretched thin, hologram.
Before it became political, the hunted, the hunter––the uncatchable.
Picasso has famously said, "It took me four years to paint like Raphael, a lifetime to paint like a child". He speaks about his objective this way, "I aim at deeper resemblance, more real than real, thus becoming surreal." It seems to me, in his sculptures, his paintings, his plates––all his art he was attempting to enter essence. And record it.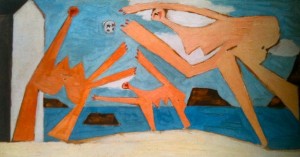 Bathers Playing With A  Beach Ball
Entering essence seems a tall task.
Given our lifestyle. Most of us at least, especially those of us with kids, within commuting distance of a city, with patience-challenged personalities. Not to mention death. The agonizing beauty of love. Too many chocolate brownies. The internet. Hormones.
But children get it. Picasso sought to see like a child. One of my very favorite poets and essayists, Naomi Shihab Nye, pays homage to this in her poem, "One Boy Told Me".